Using sports betting software has made sportsbooks more accessible today. Just like any other software, a sports betting platform makes bookie's tasks more manageable. It allows players to wager on their favorite sports. In addition, the best pay per head bookie software will enable players to do live betting, in-play betting, virtual betting, and more.
People use this sort of software if they want to become an online bookie. Also, bookies or casino operators can use the software to bring their business online. Sports wagering programming can be incorporated on any gaming site transforming it into a sports wagering site or sportsbook in the blink of an eye.
Advantages of Using Sports Betting Software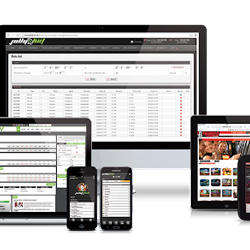 There are several benefits of using sports betting software. The first one is that it is a turnkey solution that you can incorporate into a new or existing gambling site within a couple of days. Also, it is the fastest way to improve the business or add more features to an already existing gambling platform.
Integrating the sports betting software into a website is cheaper than employing a software developer for the job. Also, you don't need to create a bookie platform from scratch. Some software provider allows clients to use the program on a commission basis.
Clients only need to pay for it on a weekly or monthly basis. They charge a fixed percentage of the revenue. For example, some providers charge for every active player per week. As a result, it is the best solution for start-ups that want to open a sportsbook without substantial initial investments.
Sports betting software allows multiple payment systems. However, online gaming is a risky business, and its success depends on the security and safety were given to players. Thus, players look for a platform that has a safe checkout system with an encryption system that will keep their data away from prying eyes.