Romeo Beckham, David Beckham's son, signed with the B team of Brentford in the Premier League. According to bookie software reports, it was part of a loan deal from MLS NEXT Pro team Inter Miami CF II. Thus, the young midfielder will be part of the reserve team. He will play in overseas matches and the Premier League Cup.
Last year, Beckham played 20 games for Inter Miami II in the MLS NEXT Pro division, scoring twice and setting up a league-high ten assists. Then, in a friendly match against La Liga powerhouse Barcelona in July, he came in as a substitute for his father David's team, Inter Miami.
Beckham said he enjoyed his season with Inter Miami. He added that there were ups and downs. However, he's excited to play with his new team and see what he can contribute.
David Beckham's Son Joins Brentford's Team B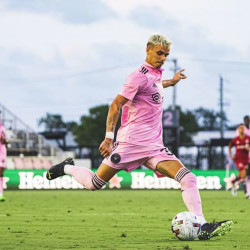 According to bookie PPH sources, Beckham's loved ones shared their congratulations with him online. His dad, David, is happy for him. In addition, he shared a selfie of himself and Romeo outside the Brentford team's training facility, with both of them wearing the team's jerseys.
Beckham is excited to continue his football education under the tutelage of Brentford B head coach Neil MacFarlane and assistant coach Sam Saunders. In addition, he plans to acquire experience playing against men's teams abroad and learn from the players around him.
Beckham has stated that he is learning a lot from experience. In doing so, he can improve his game and pick up tips from more experienced players. In addition, according to sports betting news outlets, competing on an international stage will help him develop physically and mentally.
Start a bookie business with Bwager.com today!