Last weekend's GEICO 500 at the Talladega Superspeedway had positive results for sportsbooks. According to the best bookie pay per head company, it is the most wagered NASCAR race after Daytona.
Sportsbooks got a good handle for the race. DraftKings reported an excellent handle on the race. However, it didn't equal the handle it got from the previous year. The sportsbook said that the decrease was due to the demand built up during the pandemic.
DraftKings said that it wrote the same number of tickets this year. However, the handle was down. According to sportsbook software sources, players might not make as many bigger bets this year than the previous year.
Most Wagered NASCAR Race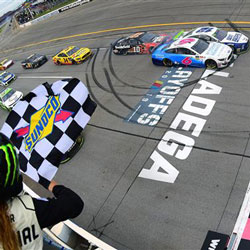 Talladega in 2020 came after there were no live sports events. Thus, many players wagered on the occasion. Even non-race fans placed bets because they were looking for something to bet on. Therefore, the handle last year was better.
Brad Keselowski won GEICO 500 at Talladega Superspeedway last Sunday. It was a good result for DraftKings and BetMGM. However, it led to losses for the SuperBook. Out of the 25 wagers placed on Keselowski, two bigger ones came from a regular. According to the sportsbook, the player loves betting on NASCAR races. He put an $800 wager on Keselowski at 14/1 and $500 at 12/1.
At BetMGM, Keselowski got around seven percent of the tickets and handle. Thus, he was a winner for the sportsbook in the market. DraftKings also did well for the race, with Keselowski getting around a fifth of the handle.
Matt DiBenedetto's move to the high side allowed Keselowski to overtake him. The move BetMGM to pay out big winners. DiBenedetto's odds moved from 65/1 during the opening to 30/1.
Denny Hamlin was the favorite to win the race. He led the list of drivers with the most action last Sunday.
These are the things you need to know when you open a bookie business. Knowing when to move the line is vital to have a profitable sportsbook.