Sycuan Casino renewed its partnership with the San Diego Loyal Soccer Club. As a San Diego Loyal partner, it has the presenting rights for the premium seating area at the Torero Stadium. Also, it will hold a halftime kick contest throughout the USL Championship season.
Rob Cinelli, Sycuan Casino GM, expressed his excitement to be the exclusive partner of the San Diego Loyal for the second straight year. Also, he wishes the team great success for the upcoming season.
According to pay per head bookie sources, the Sycuan Endline Suites provides a close view of the game. Also, it allows ticket holders to enjoy an exclusive experience of premium parking and food and beverage.
San Diego Loyal Partner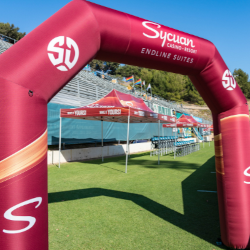 The casino will continue its 40th Minute contest. Fans can enter digital sweepstakes to win a Sycuan resort prize pack. Also, if the team scores a goal in the 40th minute, a random fan in the stadium will receive a Sycuan resort prize pack. Both promotions are being broadcast as part of the Presented by Sycuan programming.
Sycuan 25k Halftime Kick Contest returns for the 2023 season, allowing supporters to win $25,000 at select home matches after its successful debut in 2022. At halftime, random contestants will be picked and allowed to kick their way to the grand prize.
Sycuan Casino is the official venue for Cage Warriors in the United States, having teamed with Europe's largest mixed martial arts (MMA) promotion at the start of the year to host four events.
As you can see, there are soccer tournaments throughout the year. Thus, you can start a bookie business from home and accept wagers on soccer games. When you start a sports betting platform, we recommend looking at sportsbook pay per head features.
Start a bookie business with Bwaer.com today!