Hard Rock Digital's Hard Rock Bet gambling app is now available in New Jersey. The app will improve players' gaming experience as they visit various land-based Hard Rock properties in NJ.
Hard Rock Bet may be accessed from any computer or mobile device. The latter group can also get a specialized app for Android and iOS devices. Hard Rock Bet stands out because of its user-friendly sports betting platform and quick payouts. Also, it guarantees smooth gameplay.
The online casino, sportsbook, and loyalty program that makeup Hard Rock Bet are seamlessly interconnected. The new gambling and bookie software is not only for digital gaming; it is also meant to enhance the experience of regulars and guests at the Hard Rock Hotel & Casino in Atlantic City.
Hard Rock Bet Launched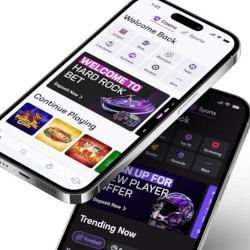 Following the success of its in-house online sports betting platform, Hard Rock's new app will launch its in-house online casino. Arizona, Indiana, Ohio, Tennessee, and Virginia players may now use the Hard Rock Bet sportsbook.
Lastly, the Hard Rock Bet Loyalty Rewards program has been improved, making it easier for players to earn points and cash them in for prizes. The online program will be coordinated with Hard Rock's physical locations.
Marlon Goldstein, CEO of Hard Rock Digital, has said that this launch is a "major turning point" for the firm. He gushed about the debut of Hard Rock's in-house casino, noting that the casino and sportsbook are a source of great pride for the establishment.
George Goldhoff, president of the Hard Rock Hotel & Casino AC, has added his two cents to the discussion. He praised Hard Rock Bet for bringing high-quality gambling to New Jersey and said it was a great addition to the state.
However, Hard Rock International officially launched its newest Rocksino in South Dakota. Meanwhile, the firm is preparing to introduce its Rockford offering in 2024. According to bookie PPH reports, the firm is developing its worldwide presence by building its first facility in Canada.
Start a bookie business with Bwager.com today!