Starting from the 2020-2021 season, Kok Sports will be Real Madrid Asian sports betting sponsor. It replaced the China-based operator ManBetX. The agreement will have Kok and Real Madrid collaborate on interactive experiences and unique content for the Asian market. According to PayPerHead reports, the deal will last for three seasons.
The announcement came after Spain implemented new advertising restrictions for operators. The Spanish government imposed stricter rules involving the gambling industry, especially when it comes to advertising.
Spain now has stricter rules when it comes to gambling ads. For instance, regulators only allow radio and TV gambling ads from 1 am to 5 am. However, gambling companies can place ads during live sports broadcasts if they start from 8 pm to 5 am.
Real Madrid Asian Sports Betting Sponsor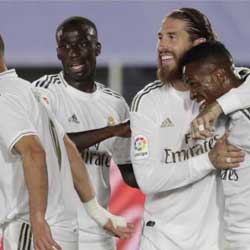 Bwager Betting Software learned that gambling ad content is under stricter scrutiny in Spain. The rules prohibit direct encouragement to gamble, such as bet now or play now. Also, the laws prohibit giving out live odds on ads during live events.
A sports betting platform can still sign sponsorship deals with sports teams despite the severe restrictions. For instance, in-stadium ads are banned. Also, the stricter regulations implemented last February prohibited the use of public figures to endorse gambling brands.
The government implemented more ad restrictions last April to prevent gambling-related harm during the pandemic. The new rules restricted ads entirely because there are no live sports during the pandemic.
Online ads took a hit because the rules banned individual emails and direct ads on social media. Operators can't run retention or acquisition campaigns that offer financial rewards, discounts, odds multipliers, free bets, or rebates that entice customers to gamble.
Although the government temporarily lifted the restrictions in June, the Spanish government submitted stricter rules to the European Commission. The proposed regulations removed exceptions for ads during live sports broadcasts.