According to the recent Rhode Island Lottery report, there was an increase in RI sportsbook revenue in August. The Lottery said that it was due to increased activity in the two retail sportsbooks in the state.
In August, sports betting revenue was $1.4 million, which was a 64.4 percent increase from $851,788 from August of 2019. Also, the amount was a 298 percent increase compared to July of 2020.
Players placed a total of $23.1 million wagers on sports in August. It was a 244 percent increase from the previous month. Also, it was a 118 percent increase year-over-year. However, the surprising news is that retail got a more significant portion of the pot than mobile wagering in August.
Retail Resurgence Drives RI Sportsbook Revenue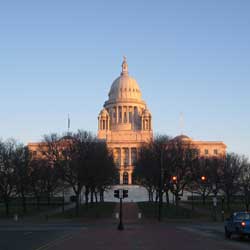 The total revenue from retail outlets was $932,790. According to sports betting solutions reports, players wagered $12.7 million at the Tiverton Casino and Twin River sportsbooks. On the other hand, mobile sports betting revenue was only $490,601. Their total handle was $10.4 million. Also, players won $9.9 million from mobile platforms.
According to bookie pay per head sources, retail sportsbooks reopened last June 8. However, they operated with certain restrictions. Among the two retail locations, Twin River got the most wagers with $7.3 million. Also, it had total revenue of $638,143.
On the other hand, Tiverton Casino had $5.4 million in sports betting handle. According to sportsbook pay per head reports, players won $5.1 million from the sportsbook. Also, the casino earned $293,647 from sports betting in August.
Rhode Island earned $1.8 million from sports betting from the current financial year to date. It was up $1.7 million from the same period in 2019. The state's handle increased more than twice the amount from $14.7 million to $29.9 million. It looks like Rhode Island sportsbooks broke the stereotype that online sportsbooks do better than retail outlets.