Throughout the years, there are talks about the Michael Jordan gambling conspiracy regarding his first retirement from the NBA. The Netflix documentary Last Dance featured several controversies the superstar faced during his career, including his decision to retire after winning three championships for the Bulls.
At the time of his first retirement, Jordan was only 30. He was healthy and at the peak of his professional basketball career. Also, it was just four months after Chicago won its third straight title.
The Olympic medalist led the NBA in scoring for the seventh season in a row. Also, he was the Finals MVP of the previous season. However, he suffered a personal tragedy over the summer when someone murdered his father.
Michael Jordan Gambling Conspiracy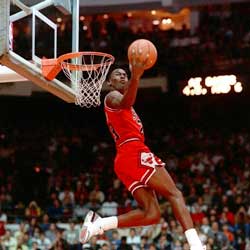 Michael Jordan said that the desire for basketball wasn't there anymore. Also, he felt that there wasn't anything to prove. Based on a pay per head blog, he played baseball during his retirement for the Double-A Birmingham Barons.
He found his desire to play basketball again in March 1995 and went on to win another three titles for the Bulls. However, his 1993 retirement left many questions instead of answers. According to bookie pay per head sources, there were many speculations about his decision.
One theory is that the NBA is worried about Jordan's ties to gambling syndicates. By stepping away from the league, it served as a face-saving action for all people involved. Based on sports betting platform reports, the NBA didn't want to punish their best player in public.
Jordan was known to be a gambler. The night before a playoff game against the Knicks, he was seen playing cards at a casino in Atlantic City. Also, he admitted he had substantial losses from playing in casinos.
Jordan had debts to various people, including cocaine trafficker James Bouler, bondsman Eddie Down, and golfing partner Richard Esquinas. It was a different time for gambling in the US. During the 1990s, people link casinos and sports betting to the mob. At present, leagues welcome gambling with open arms.
However, there's no truth in the Michael Jordan gambling conspiracy. If Jordan was indeed pushed out of the NBA, the board of governors and NBA commissioner would not welcome him back a second time around. Also, they will not approve his purchase of the Charlotte Hornets.