ESPN partnered with Penn Entertainment to launch a sportsbook in November. According to the deal, Penn Entertainment will rebrand its Barstool Sportsbook into ESPN BET.
Penn Entertainment has sports betting licenses in 16 states, all of which will undergo this change. The rebranding effort will extend to ESPN-branded versions of mobile apps, websites, and mobile websites and a small number of retail locations.
Penn Entertainment will pay ESPN $1.5 billion over the next decade. ESPN will get warrants to purchase approximately 31.8 million Penn Entertainment common stock shares from Penn Entertainment for $500 million. According to sports betting news reports, the partnership may also award bonus warrants depending on ESPN BET's success.
ESPN Partnered with Penn Entertainment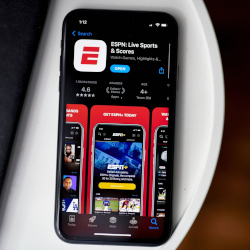 In the coming fall, ESPN BET will launch as the network's official sportsbook, with significant integration into ESPN's existing programming and content. This calculated action is designed to satisfy the needs of sports fans who want easy access to betting options and information from within ESPN's digital ecosystem.
Pitaro and Jay Snowden, CEO of Penn Entertainment, discussed their excitement about combining the two organizations' resources to provide an unparalleled betting experience for seasoned veterans and newbies. It includes using its gambling software to power ESPN BET.
Penn Entertainment has permits in 16 states, including New Jersey, Pennsylvania, Maryland, and Michigan. Also, it positions itself to benefit from the growth of the legal sports betting industry in the United States.
With this partnership, ESPN is strategically shifting into the lucrative sports betting industry. The media conglomerate has already begun to dabble with betting-themed programming by airing shows across many platforms and prominently showing odds. In addition, ESPN has become a go-to source for news on the gaming business across all its digital platforms.
Notably, former NFL player and sports media personality Pat McAfee parted ways with FanDuel and signed up with ESPN to expand the reach of his successful YouTube program. McAfee's move to ESPN will likely increase his reach and effect in the sports media sector, where he already has a sizable fan base because of his captivating personality and insightful analysis of sports.
You do not need to partner with ESPN to become a bookie from home. All you need is a reliable pay per head provider.
Start a bookie business with Bwager.com today!