Retired boxing star Manny Pacquiao won against Korean martial artist DK Yoo in an exhibition match in South Korea. Although Yoo was taller than Pacquiao, the latter landed right hooks and left straights through the six rounds.
The South Korean took enough damage to the head and body to fall to the ground on many occasions, but it was declared a slip each time he did.
By the fourth round, Yoo also showed signs of fatigue, despite the fact that his occasional showboating kept the crowd on its feet.
Based on software sportsbook reports, Pacquiao won by unanimous decision.
Korean Martial Artist DK Yoo Lost Exhibition Match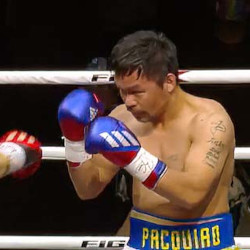 As the fight night approached, the 8-division world champion weighed 161.1 pounds, his highest ever. Sportsbook PPH experts stated that Pacquiao regularly fought at 147 pounds in his later years.
According to sports betting software company sources, Pacquiao has not boxed since his retirement following a defeat to Yordenis Ugas in August of 2021. Therefore, this bout marked his return to the sport.
Pacquiao, who stood for president of the Philippines last May but lost, has pledged to use the money he makes from this exhibition fight to fund the construction of affordable housing for the poor.
Start a bookie business with Bwager.com today!