Magnus Carlsen won against Rameshbabu Praggnanandhaa in a tiebreak. As a result, Carlsen became the Chess World Cup champion. According to sports betting software experts, the two drew the first two games of the final.
In the first tiebreaker game, Carlsen prevailed. Then, the two drew the second tiebreak game. Thus, Carlsen won his first World Cup. He already won all major chess tournaments.
It has been a long road to the final for the two players, who have faced and defeated several formidable challengers over the last four weeks.
Carlsen's already difficult situation was further compounded when he had a food illness earlier in the week.
Chess World Cup Champion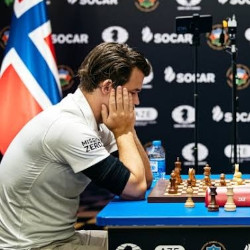 A world audience watched the two players play one another. They are widely considered the sport's best. At one point, 115,000 people were watching the live stream of the first game of the final, and over 150,000 were watching for the tiebreak.
Carlsen proved why he is the reigning World Rapid Champion and world No. 1. In the tiebreak, he outmaneuvered Pragg and put him in trouble.
If Carlsen draws his match, he wins the World Chess Championship. The World Cup was Pragg's ticket to the big leagues in the sport.
At 10 years, 10 months, and 19 days, Pragg became the youngest international chess master. He reached the final by defeating two of the top three players in the world. Also, it earned him a spot in the 2024 Candidates Tournament, which will decide who will challenge the current World Chess Championship holder in the following year.
Ding Liren is the reigning world champion. Also, the winner of the Candidates Tournament will compete for the title against him. Ding's win meant the end of Carlsen's five-year tenure as champion after he opted not to defend his crown earlier this year.
You can open a sportsbook and accept wagers on chess events with a pay per head solution. It allows you to become a bookie and earn while watching chess matches.
Start a bookie business with Bwager.com today!