The year-on-year increase for income on inward direct investments for Macau gambling is at 34.5% for 2017. This means the inward direct investments for that year is at MOP37.9 billion, or around $4.7 billion. Macau's Statistics and Census Service, or the DSEC, has released this information.
The total income for this particular special administrative region is MOP 58.6 billion, or $7.2 billion. Meanwhile, the gambling sector's share on this amount is at 64.5%. On an international level, one can see from gambling industry news that a lot of investments and revenues on gambling are enjoying upward trends.
Increase Performance for Gambling in Macau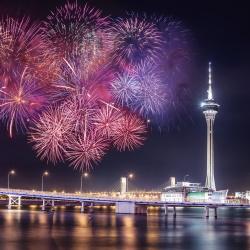 In fact, the performance in 2017 for the gambling sector is a welcome change. Especially compared to the previous years, where a decline in income was reported at 47.5% in 2015, and 6.4% in 2016. The total equity capital of enterprises that have inward direct investments in Macau amounts to MOP 20.2 billion, roughly $2.5 billion. Out of that amount, MOP 6 billion, or $741.5 million, which is around 29.7%, comes from gambling. And from the capital from gambling, MOP 3 billion or $505.7 million, which is around 68.2%, is from foreign investors.
The inward direct investments flows total for 2017 in Macau is MOP 3 billion. This is actually 79.9% less than 2016. The DSEC associates this "due to the reduction in the amount of reinvestment resulted from a generous distribution of dividends by some gaming companies, as well as the repayment of loans from foreign direct investors and fellow companies abroad."
Meanwhile, outward direct investment flows in 2017 from Macau is at MOP 1.3 billion, or $163.2 million. Aside from this, stock from Macau businesses outside of the region has shown an increase year on year by 12.4% at MOP 19.3 billion, or $2.4 billion. Also, gaming stocks are down by 29.9% at MOP 6.7 billion, or around $829.3 million.
Of course, online casinos are enjoying a great inflow of sports bettors from around the world. You can look for reliable betting software providers to see how you can get a share of the gambling market on a global level.