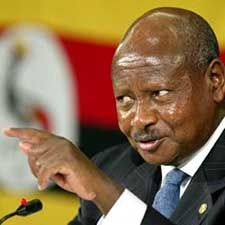 Ugandan President Yoweri Museveni told his government to stop issuing and renewing licenses to all gambling firms. Uganda bans gambling of any kind to stop people from wasting their money and lives on betting.
State Minister for Finance David Bahati said the gambling industry in the country is operating on borrowed time. Now is not the right time to read on how to be a bookie for dummies in Uganda. The government will be strict in implementing the presidential directive.
Bahati made the announcement at the closing ceremony of a religious event over the weekend. He went to the event on behalf of the president. After hearing that Uganda bans gambling, religious leaders praised the country's leader.
Uganda Bans Gambling – Why?
President Museveni decided to ban all types of gambling to save the lives of young Ugandans. He told gambling industry news that the youth are the true victims of gambling. In fact, they wager their earnings in the hopes of winning the jackpot prize.
Religious leaders complained that online betting led to the reduction of productivity among young adults. As a result, many households sink further down the poverty line. The government hopes that the gambling ban will make Ugandans work for their future, instead of relying on luck.
However, the National Gaming Board Uganda hasn't received any official order from the president. Chairperson Manzi Tumubweine declined to provide any comments on the issue until he got a copy of the official policy.
Gambling is legal in the country under the Gaming and Pool Betting Act and the National Lotteries Act. At present, there are more than 2,000 active gambling operators in Uganda.
In a 2016 survey, around 58 percent of the respondents want the banning of sports betting in Uganda. Most people believe that the activity only makes people poor. If the directive becomes official, then the people will get their wish.