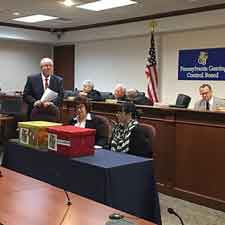 Mobile sports betting is rolling out in Pennsylvania soon. Before its formal launch, the Keystone State launched a gambling self-exclusion program. As a result, residents can exclude themselves from being able to access mobile sports betting sites and apps.
The initiative is made from people with gambling problems. Also, it is a tool for people who have a moral objection to gambling. The iGaming Self-Exclusion Program is similar to the state's gambling self-exclusion program for land-based casinos. However, the two programs are independent of each other. In theory, a person can be on one list but not on the other.
People who are part of the land-based self-exclusion list need to enroll in the new online list. It is a voluntary program, which means only individuals themselves can register for it. In fact, people need to register at the Gaming Control Board Office in person. They can't do it via mail.
Gambling Self-Exclusion Program
People who join the gambling self-exclusion program can opt for a year, five years, or lifetime self-exclusions. Also, there's no way to opt-out of the program before the time elapses. Once registered, the person will be part of a list given to sports betting software operators in the state.
People who are part of the list can't place bets or access sports betting websites. In addition, operators can't send promotional materials to self-excluded people.
Aside from the self-exclusion program, Pennsylvania also provides other options such as deposit and withdrawal limits, daily time-based limits, wager limits, and temporary suspension of gambling privileges. Also, these are voluntary options.
At present, the restrictions are too loose regarding online sports betting. As more entrepreneurs looking on ways on how to be a successful bookie in the state, regulators want to make the industry safer for the vulnerable.
It is more convenient to place bets through a desktop, laptop or mobile device. That's why many people want to know how to be an online bookie in Pennsylvania today. The state needs to act fast to provide problem gambling protection to its residents.