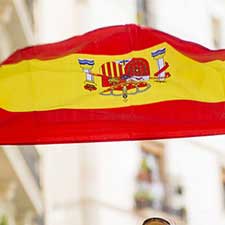 Unidos Podemos, the left-wing party, brought the issue of Spanish online gambling ads in the spotlight once again. They said that ads were harming young folks and led to an increase in gambling addiction in the country.
The party teamed up with the Socialist Party to change rules regarding gambling advertisements. It could affect the gambling industry, which is flourishing at present. According to sports betting software platform providers, online gambling and sports betting earned all-time highs in revenue this year.
Also, lottery games and video terminals are gaining new players due to Spaniard's new-found interest in gambling products. However, not everyone is pleased with the latest developments. More notably, consumer protection minister Alberto Garzon said that new regulation is needed to prevent the increase of addiction across the country.
Calls for Reduction of Spanish Online Gambling Ads
Garzon wants new regulations that are like how the government taxes tobacco. He said that the country needs to regulate the gambling sector because it impacts the health of the citizens. Also, the government is considering a ban on specific ad policies that provide incentives for people who place wagers. Thus, they want to ban free bets for new customers.
Garzon pointed out that Sweden already has measures in place. Sweden is one of the most heavily regulated markets in the world. However, it is also the fairest market today. In Spain, online actions increased three times from 2014 to $19 billion in 2018. It is not a surprise since it coincided with the FIFA World Cup, according to odds management firms.
Spanish citizens lose around $10.85 billion to betting activities. As a result, the government wants to limit people's exposure to gambling ads to prevent them from becoming more interested in gambling. It is probably not the best time to read how to be a bookie for dummies in Spain.