Macau casinos showed indicators of recovery based on the report from the Gaming Inspection and Coordination Bureau. The casinos broke their streak of having at least a 90 percent decrease in their gambling revenue.
Gambling operators in Macau got $910 million from bettors in October. According to the report, the number represents a decrease of 72.5 percent year-over-year. Although the news might look bad for the industry, some bookie software analysts saw it as a positive recovery sign.
According to a sports betting software company, insiders in the region were expecting a 74 percent decrease after suffering from 90 percent drops for half a year. In the first ten months of 2020, the region earned $5.7 billion in revenue, 81.4 percent lower from the same period in 2019.
Macau Casinos Showed Signs of Recovery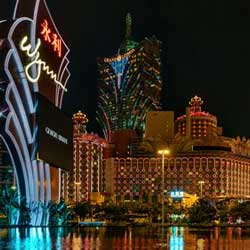 The coronavirus was the leading cause of revenue decline in Macau. However, Las Vegas Sands Corp. said that they got a significant increase in gambling activity in October. Las Vegas Sands has six properties in Macau, although they didn't open a sportsbook in the city.
According to LVS COO Grant Chum, they saw a significant increase in both patronage and business volume in October. It was the first time it happened since January. He added that patrons who returned are of high-quality.
The company is optimistic about the resurgence of the casino industry in Macau and the rest of Asia. Also, they announced that they would sell two casinos and the convention center in the Las Vegas Strip. They want to focus on its Asian properties in Singapore and Macau.
In early October, China celebrated its Golden Week. It could have helped bring in more tourists to Macau, but the total number of guests was lower by 84 percent from 2019. Analysts expect more tourists to visit Macau when the Chinese government relaxes its travel restrictions.