Here is some good news for UFC fans in Ontario. First, the Alcohol and Gaming Commission announced that sportsbooks could resume taking wagers on Ultimate Fighting Championship Events. The Ontario sports betting regulator suspended betting on UFC events following the fight between Shayilan Nuerdanbieke and Darrick Minner last November 5.
With Minner's ailment kept under wraps, suspicious wagers poured in on Nuerdanbieke. Furthermore, there were fewer than 2.5 rounds fought. As a result, gambling irregularities in the fight are being looked at in Nevada. As ESPN has reported, the FBI is assisting in the probes.
MMA trainer James Krause has been named the source of the integrity violations. In December, the UFC announced that Krause would be permanently prohibited from dealing with its athletes. Krause is a well-known ex-MMA fighter who is also an avid sports gambler, having hosted betting-centric channels on both Discord and YouTube. As a result, several combatants with ties to Krause are becoming targets of the probe.
Ontario Sports Betting Regulator Reallows UFC Betting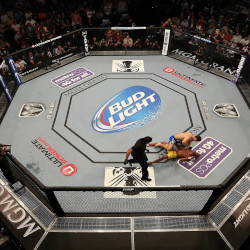 Pay per head sportsbook sources claimed last week that Krause was an agent for an offshore bookmaker where people bet on sports. When sports betting was finally legalized in Canada in 2021, one of the key aims was to ensure the sector was regulated and safe for players.
When the AGCO stated in December that it was canceling UFC events, a representative claimed the two organizations would collaborate closely to resolve the AGCO's concerns. However, according to an online bookie software report, the unusual conduct raises serious concerns.
Before AGCO made its statement on Thursday, the UFC revealed its partnership with US Integrity. In response to complaints from its sportsbook customers, the Las Vegas company was already looking into the UFC's integrity issues.
With the reinstatement of UFC betting, now is the best time to learn how to be a bookie. You can earn money from bets made on MMA fights.
Start a bookie business with Bwager.com today!