NASCAR signed a partnership deal with Powerball. As a result, the latter became the official NASCAR lottery game partner. Powerball is inspiring million by giving them the hope of becoming a millionaire.
In 2022, Powerball helped someone become a billionaire. Also, its revenues go to good causes. According to bookie pay per head sources, NASCAR and Powerball share the same goal of entertaining people. But, at the same time, they give back to communities.
According to gambling industry experts, Powerball and NASCAR will begin their partnership with the launch of a campaign throughout 2023. It would allow a lottery player to win a million dollars. Also, both organizations scheduled the draw to take play on November 3 to 5 in the Phoenix Raceway.
Official NASCAR Lottery Game Partner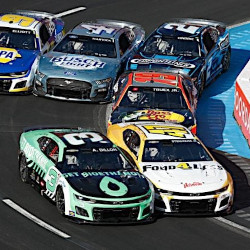 Drew Svitko, the Powerball Product group chair and the Pennsylvania Lottery executive director, also shared his thoughts on the new partnership. It was exceptional how both parties were able to create memorable moments that brought everyone together and cheer for something big.
This Sunday, February 19, FOX, MRN, and SiriusXM NASCAR Radio will broadcast the first race of the 2023 regular season of the automobile racing series, The Great American Race, the 65th Annual DAYTONA 500.
According to betting software development specialists, drawings for Powerball are held every Monday, Wednesday, and Saturday, giving players three opportunities to win each week. Additionally, more than half of earnings from ticket sales are distributed to the jurisdiction in which the tickets were sold.
Powerball draws are held in the Florida Lottery's draw studio in Tallahassee and aired live on the lottery's website, Powerball.com. Powerball tickets are available in 45 states, the District of Columbia, Puerto Rico, and the US Virgin Islands.
This month, a lucky ticket purchased in Washington state matched all six numbers to win the Powerball jackpot of $754.6 million, making it the seventh-highest win in the lottery's history.
Start a bookie business with Bwager.com today!