The Astros and Rangers cleared their benches as tempers flared in the eighth frame of Game 5 of the American League Championship Series. According to sports betting software reports, it was after Bryan Abreu's fastball hit Adolis Garcia on the shoulder.
After a heated exchange of insults, Garcia put down his bat and turned to face Houston catcher Martin Maldonado.
As a result, players from both benches ran out onto the pitch to separate Garcia and Maldonado. After over 12 minutes of delay, officials ejected Garcia, Abreu, and Houston manager Dusty Baker. However, no punches were thrown during the confrontation.
Astros and Rangers Cleared Their Benches in 8th Inning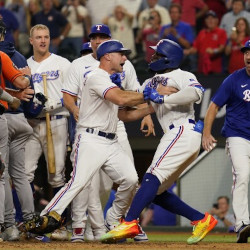 According to bookie pay per head reports, Garcia spiked his bat into the turf at Globe Life Field as he walked slowly down the first-base line after hitting a three-run homer two innings earlier. The 30-year-old jogged slowly around the bases (30.5 seconds) to take it all in.
The Astros won Game 5 of the ALCS, 5-4, on the strength of a three-run home run by Jose Altuve in the bottom of the ninth inning. After taking the series' last three games, they lead the best-of-seven matchup 3-2 and are only one victory away from clinching a trip to the World Series.
According to sportsbook pay per head news, Houston will host Game 6 of the ALCS on Sunday at Minute Maid Park. The victor will attend the World Series and play the Philadelphia Phillies or the Arizona Cardinals.
In other NLCS news, the Arizona Diamondbacks won Game 4 at Chase Field, 6-5, evening the best-of-seven series against the Philadelphia Phillies. With two wins in a row, the Diamondbacks have the upper hand as they head into Saturday's Game 5 against the Phillies in Phoenix.
Start a bookie business with Bwager.com today!