During a press conference, Rafael Nadal stated his intention to play in Wimbledon. It would be his first time playing the event in three years. However, it will be a difficult task due to a lingering foot injury.
Nadal said he would travel to London to participate in Wimbledon. He won the tournament twice in the past. However, his time in the Grand Slam will depend on his foot condition.
He made it known to the public that he intends to join Wimbledon. According to online bookie software experts, there's a chance that he will play in the grand slam. Thus, he is traveling to London on Monday.
Rafael Nadal Plans to Play in Wimbledon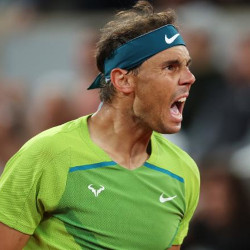 Nadal plans to go to London and train for a week there. Also, there are plans to play an exhibition match to prepare for the big event. According to Bwager sources, it was part of Nadal's routine in preparation for Wimbledon. Hopefully, his foot injury permits him to participate in the tournament.
It has been three years since Nadal played in Wimbledon. He is excited. However, the Spaniard still needs to consider his foot injury. If things go well, he can train for a week and prepare for the grand slam.
According to Bwager.com reports, Nadal won his 14th French Open earlier in June. Also, he extended his grand slam wins to 22. However, the Spanish tennis star played the final without any feeling in his foot. It is an ongoing injury that required daily injections during the French Open so that he could play and train.
His last Wimbledon match was when he lost against Roger Federer in 2019. Organizers canceled the tournament in 2020 due to the pandemic. Also, Nadal pulled out of the tournament last year due to a foot injury.