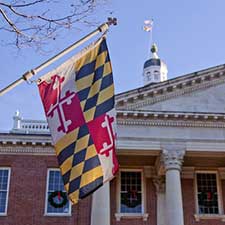 After the Supreme Court made sports betting legal across the US, every state is trying to cash in on their share of the pot. One of the legislation that's gaining traction is Maryland's HB 1132. Also known as the Maryland sports betting bill, its goal is to regulate the activity in the state.
House Bill 1132 will authorize the State Lottery and Gaming Control Agency to oversee sports betting. It will not require a referendum to legalize the activity in the state. In 2018, advocates failed to place it on the ballot. Their next chance will be in 2020.
However, there's no need for a referendum anymore with HB 1132. Representatives Kevin Hornberger and Jason Buckle told gambling news reporters that the agency already got its powers through a 1972 referendum. In addition, they said that it is not a gambling expansion but clarifying the responsibilities of the agency.
Maryland Sports Betting Bill
The Maryland sports betting bill received bipartisan support. The Governor, Senate President, and the Speaker of the House are expressing some interest in the bill. This is good news after what happened last year.
In 2018, sports betting didn't make it on the ballot because the Senate and House didn't agree with the wordings of the question. The Senate wants the question to be more broadly worded, while the House wants it horse tracks included in the question.
Sports betting software providers expect Maryland to legalize sports betting within the year. The Democrats and Republicans supporting the bill. In addition, most voters want the activity to be legal in the state.
Through the Maryland sports betting bill, lawmakers are trying to fast track the process and ensure the legislature passes the law before 2020. They want to make up the time lost by missing out on the referendum in 2018.