The State Gaming Commission approved a new Mississippi coast casino. The proposed gaming development will be named South Beach Casino and Resort. Also, the commission gave the license to Russell Elliott of Bay St. Louis and Kirk D. Ladner of Diamondhead.
According to sportsbook pay per head reviews and news sites, Ladner is a general contractor based in Gulfport. However, there is no information about Elliott's profession.
Bwager.com sources learned the South Beach Casino would have a 40K gaming floor with table games, poker tables, and slot machines. Based on the gaming license application, it will be within 800 feet of the high-water line.
New Mississippi Coast Casino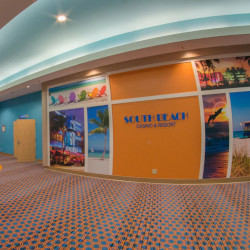 Tom Gresham and Francis Lee are the only members of the state's gaming commission now. The result was unanimous in favor of acceptance.
There is no sign of money for Ladner and Elliott. However, getting the site approved first would simplify the funding process, Ladner told the gaming commission.
In 2004, Ladner and Elliott submitted applications to open a casino with the same name and address. However, during the second phase of the casino development process, when applicants are expected to demonstrate that they have the financial wherewithal to finish the casino for which they were granted a license, they withdraw their application.
It is a prevalent complaint along the Mississippi Gulf Coast, where 12 casinos already operate or are planned for the counties of Hancock and Harrison. More than twice as many casino developers had their sites authorized before Hurricane Katrina hit in 2005. However, more than half of them have been unable to get finance.
Mississippi Gaming Industry
Mississippi's gaming industry has more than recovered from the pandemic, but banks and investors are still wary of funding new projects. Also, it generated nearly $2.7 billion in gross gaming revenue (GGR) in 2021. The former Margaritaville Casino was supposed to be transformed into the Rock & Brews Casino with a $200 million rock n' roll theme. However, the rock legend KISS convinced enough investors to help with the project.
Only one new firm, which opened the Margaritaville Casino on the waterfront of Biloxi's Back Bay but has since shut down, successfully authorized their casino idea. According to sportsbook pay per head agents, Elliott and Ladner are given a deadline of the year 2026 to complete the South Coast Casino & Resort.
Start a bookie business with Bwager.com today!